Judging Panel 2023
Meet Our Judges & MC 2023
The Golden Spurtle Crown and Speciality Award relies on the skills and experience of our Judging Panel. The 2023 Judging Team is a range of famous and prestigious chefs. Without our judges there would be no competition.
Neil Mugg – Head Judge, chairperson of Judging Panel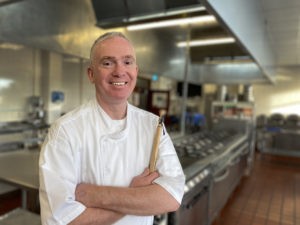 We are delighted to welcome back Neil Mugg, who has been a judge at the Championships on many previous occasions. Neil has enjoyed a fantastic career working as a Chef in Scotland. Starting on the west coast of Scotland in a country house hotel, moved to Glasgow in 1990 to further his career in developing skills as a Pastry Chef whilst also studying at college. During the time in Glasgow Neil moved periodically and has worked in many places including the Triangle restaurant, One Devonshire Gardens and was the Head Pastry Chef at the Hilton Hotel. 
Late in 2003 Neil relocated to Perthshire and worked at Gleneagles hotel. Whilst there, after mentoring students in 2008 took up a part time position at Perth College UHI and worked in both places until 2016. In 2016 after leaving Gleneagles, worked in 3 colleges across Scotland and is now happy in his role at Perth College UHI.  Neil enjoys cooking/ baking and has a keen interest in farming and keeps himself busy, is currently studying teaching qualifications and enjoys learning new skills.
Kirsten Gilmour (Kj) – Judge 2023
Kj is a passionate, straight-talking, award-winning chef from New Zealand who lives and works in the Cairngorms, Scotland.
Previous owner of The Mountain Cafe, Aviemore and author of award-winning book The Mountain Cafe Cookbook; A Kiwi in the Cairngorms.
Kj grew up on her grandparents' farm in Temuka, South Island, New Zealand. Home reared, home grown and home cooked food was KJ's culinary foundation.
She studied professional cookery and at the age of 20 she left New Zealand to travel and cook abroad. In this period, she experienced everything from Michelin-starred hotels to London fine dining and eventually, Annie O'Carroll's fusion restaurant, Luca. Kj then went travelling around the UK and finally found herself in Aviemore looking for a weekend of skiing. She fell in love with Scotland (and a Scotsman!) and three years later was settled in the Cairngorms and about to take over a small, run-down café above an outdoor shop in Aviemore. This was to become an Aviemore institution that won many awards and accolades over the 16 years.
Kj's first book, The Mountain Cafe Cookbook; A Kiwi in the Cairngorms brings together over 130 of Kj's favourite recipes.  The Cookbook sold out within a month of publication. The success of the book has taken Kj all over the country making public appearances and delivering motivational talks to members of the public and the tourist industry. A second cookbook is in the pipeline. Sadly, due to the pandemic the café closed but Kirsten did not rest she opened a new business in Grantown on Spey which is now The Bothy Bakery. Kj's ethos has always been to deliver fresh, locally sourced, home cooked food with a kiwi twist. She is famed for her daily fresh bread and baking and has a loyal following.
Christina Conte – Judge 2023
Baking since the age of seven, Christina now has a calling for creating delicious and approachable recipes. Born to Italian parents in Scotland, she now calls Southern California, home. Christina shares her tested recipes on her site, Christina's Cucina (www.christinasucina.com) and is a strong believer in the importance of using quality ingredients. This has earned her a reputation for consistently producing outstanding results.
Christina has appeared on the interview stage at the BBC Good Food Show in Scotland, along with culinary stars such as Mary Berry, Paul Hollywood, and James Martin. She has been recognized as a World Porridge Champion for her sticky toffee porridge recipe, and has judged many esteemed culinary competitions such as the Tiramisù World Cup in Treviso, Italy. Christina's discerning palate and culinary expertise are the reason she was a two-time VIP diner on Masterchef,
An avid traveler, Christina draws inspiration from the diverse cuisines and cultures she encounters on her journeys. Her passion for cooking and baking is apparent in all of her endeavors, and she is dedicated to sharing her knowledge and experience with others.
Fun Facts about Christina:
  -her great-grandfather, grandfather, father, uncle, and cousins ran fish & chip shops in Glasgow
  -she has two degrees in psychology, and is a former children's social worker
  -one of her top favourite foods is black pudding
  -can recite the Prologue to the Canterbury Tales in Middle English
  -a co-winner of the Golden Spurtle Speciality Award in 2014 with her delicious Sticky Toffee Porridge recipe
 Keep up with Christina on her social media channels, or join thousands of other subscribers who already enjoy her free weekly emails at https://www.christinascucina.com/subscribe
Winner of the speciality competition in 2014.
"I am very honored and grateful to return to Carrbridge this year, not as a participant, but as a judge. It is particularly special given that
2023 is the 30th anniversary of the original Golden Spurtle competition!
I'm delighted to come back to my homeland to be inspired by "all things porridge". I have been a self-proclaimed porridge ambassador in the US, and will continue to share my joy and love of oats. I cannot wait to taste all the classic and creative porridge dishes this October alongside my esteemed co-judges, Chef Neil Mugg, and Kirsten Gilmour.
Happy porridge-making to all! "
Social Media Channels etc.
Instagram: https://www.instagram.com/christinascucina/ @christinascucina
Facebook: https://www.facebook.com/ChristinasCucina/ @christinascucina
Twitter: https://twitter.com/ChristinaCucina @christinacucina (no S)
Pinterest: https://www.pinterest.com/christinascucina/ @christinascucina
TikTok: https://www.tiktok.com/@christinascucina @christinascucina Email subscription (free): https://www.christinascucina.com/subscribe
Sarah Rankin (Master of Ceremonies 2023)
Sarah Rankin is a MasterChef 2022 Finalist, food writer and lover of Scottish flavours and produce. 
Sarah will be hosting the 30th Golden Spurtle World Porridge Championships in October 2023 after appearing on the Judging Panel in last year's competition. 
"I am thrilled to be hosting the Golden Spurtle this year. I so enjoyed my time as a judge last year, and it'll be great to be back and getting to meet all the contestants and sharing their stories with the audience. There were such an interesting range of food cultures represented last year, I can't wait to see what innovations they come up with!"
Sarah celebrates Scotland's Larder and it's artisan producers as Sarah Rankin Cooks in her food writing, broadcasting, chef demonstrations, private dining, supper clubs and food festival appearances. You'll find her food stories in Scottish Field, The Courier and The P&J, and hear her regular contributions on BBC Radio Scotland. She was thrilled to be nominated in the Food Influencer category at the 2022 Scottish Influencer Awards. 
Sarah loves to celebrate local suppliers, sustainable food practices and Scottish produce and is working on her first cookbook, 'Kith' which celebrates Scottish flavours, seasonality, local producers and the joy of cooking for those you love.  More about Sarajh in her website Here
Judging
The tables below demonstrate how our Judges will score entries in the traditional and speciality section.
You can find out more about the competition rules on our Competition > Rules page.
Speciality Porridge Section