Judging 2023
Meet Our Judges & MC 2023
Neil Mugg – Head Judge, chairperson of judges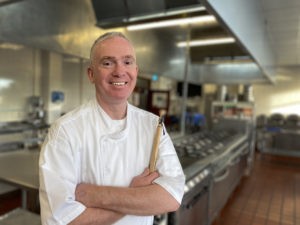 We are delighted to welcome back Neil Mugg, who has been a judge at the Championships on many previous occasions. Neil has enjoyed a fantastic career working as a Chef in Scotland. Starting on the west coast of Scotland in a country house hotel, moved to Glasgow in 1990 to further his career in developing skills as a Pastry Chef whilst also studying at college. During the time in Glasgow Neil moved periodically and has worked in many places including the Triangle restaurant, One Devonshire Gardens and was the Head Pastry Chef at the Hilton Hotel.  Late in 2003 Neil relocated to Perthshire and worked at Gleneagles hotel. Whilst there, after mentoring students in 2008 took up a part time position at Perth College UHI and worked in both places until 2016. In 2016 after leaving Gleneagles, worked in 3 colleges across Scotland and is now happy in his role at Perth College UHI.  Neil enjoys cooking/ baking and has a keen interest in farming and keeps himself busy, is currently studying teaching qualifications and enjoys learning new skills.
Sarah Rankin (MC 2023)
Sarah Rankin is fresh from the MasterChef 2022 finals and is a lover of Scottish flavours and produce. Passionate about real food, cooked simply, Sarah writes a food column for The Courier, and is working on a cookbook.
A proud Highlander, she celebrates Scotland's Larder and it's artisan producers, promoting Scottish ingredients in her regular chef demonstrations and food festival appearances.
'I am thrilled about being involved with the Golden Spurtle World Porridge Championships. It's such a fabulous celebration of our national dish and if the skills and inventiveness this year are anything like those in previous competitions, I'm in for a treat!'
Kirsten Gilmour (Kj) – Judge 2023
Kj is a passionate, straight-talking, award-winning chef from New Zealand who lives and works in the Cairngorms, Scotland.
Previous owner of The Mountain Cafe, Aviemore and author of award-winning book The Mountain Cafe Cookbook; A Kiwi in the Cairngorms.
Kj grew up on her grandparents' farm in Temuka, South Island, New Zealand. Home reared, home grown and home cooked food was KJ's culinary foundation. She studied professional cookery and at the age of 20 she left New Zealand to travel and cook abroad. In this period, she experienced everything from Michelin-starred hotels to London fine dining and eventually, Annie O'Carroll's fusion restaurant, Luca. Kj then went travelling around the UK and finally found herself in Aviemore looking for a weekend of skiing. She fell in love with Scotland (and a Scotsman!) and three years later was settled in the Cairngorms and about to take over a small,
run-down café above an outdoor shop in Aviemore. This was to become an Aviemore institution that won many awards and accolades over the 16 years.
Kj's first book, The Mountain Cafe Cookbook; A Kiwi in the Cairngorms brings together over 130 of Kj's favourite recipes.  The Cookbook sold out within a month of publication. The success of the book has taken Kj all over the country making public appearances and delivering motivational talks to members of the public and the tourist industry. A second
cookbook is in the pipeline. Sadly, due to the pandemic the café closed but Kirsten did not rest she opened a new business in Grantown on Spey which is now The Bothy Bakery. Kj's ethos has always been to deliver fresh, locally sourced, home cooked food with a kiwi twist. She is famed for her daily fresh bread and baking and has a loyal following.
Christina Conte – Judge 2023
Winner of the speciality competition in 2014.
A Scottish Italian cook living in Los Angeles, Christina is usually cooking, baking or (cr)eating something scrumptious. When she isn't in the kitchen, she loves to travel, near and far, as long as good food is involved. Christina is on a mission to save authentic Italian dishes from extinction, and is constantly promoting Scottish (and British) food as some of the best cuisine the world has to offer—one steak pie and sticky toffee pudding and bowl of porridge at a time.
Judging
The tables below demonstrate how our Judges will score entries in the traditional and speciality section.
You can find out more about the competition rules on our Competition > Rules page.
Speciality Porridge Section