Judging
Meet Our Judges & MC
Neil Mugg – Head Judge, chairperson of judges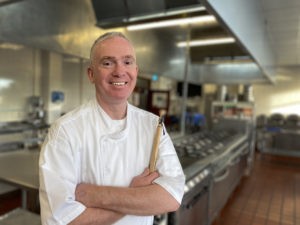 We are delighted to welcome back Neil Mugg, who has been a judge at the Championships on many previous occasions. Neil has enjoyed a fantastic career working as a Chef in Scotland. Starting on the west coast of Scotland in a country house hotel, moved to Glasgow in 1990 to further his career in developing skills as a Pastry Chef whilst also studying at college. During the time in Glasgow Neil moved periodically and has worked in many places including the Triangle restaurant, One Devonshire Gardens and was the Head Pastry Chef at the Hilton Hotel.  Late in 2003 Neil relocated to Perthshire and worked at Gleneagles hotel. Whilst there, after mentoring students in 2008 took up a part time position at Perth College UHI and worked in both places until 2016. In 2016 after leaving Gleneagles, worked in 3 colleges across Scotland and is now happy in his role at Perth College UHI.  Neil enjoys cooking/ baking and has a keen interest in farming and keeps himself busy, is currently studying teaching qualifications and enjoys learning new skills.
Colin Bussey
Being based in Scotland where I have lived since 1980, my entire working life has been focused on food, predominantly Scotland finest foods and it`s establishments. The emphasis has always been on quality, consistency and profitability! People play a huge role in the industry and currently I try to give as much time as possible to help train & develop people.  Since 2008 I have worked with a number of Scottish Manufacturers such as Rannoch Smokery, Loch Fyne Oysters and Macsween Haggis to name a few.

Within the food service sector I have worked with Loch Fyne Restaurants, Chez Gerard & Brasserie Blanc, also a number of independent restaurants. Completed the opening of Portavadie Marina in 2009, completed a project for Carnival cruises on board Azura launched in 2010.
In 2013 I was appointed consultant chef for Emmerdale farm for the development of the Woolpack kitchen, menus and food suppliers! Currently, I work with Turnberry Hotel covering chef training & development.
Kirsten Gilmour (Kj)
Kj is a passionate, straight-talking, award-winning chef from New Zealand who lives and works in the Cairngorms, Scotland.
Previous owner of The Mountain Cafe, Aviemore and author of award-winning book The Mountain Cafe Cookbook; A Kiwi in the Cairngorms.
Kj grew up on her grandparents' farm in Temuka, South Island, New Zealand. Home reared, home grown and home cooked food was KJ's culinary foundation. She studied professional cookery and at the age of 20 she left New Zealand to travel and cook abroad. In this period, she experienced everything from Michelin-starred hotels to London fine dining and eventually, Annie O'Carroll's fusion restaurant, Luca. Kj then went travelling around the UK and finally found herself in Aviemore looking for a weekend of skiing. She fell in love with Scotland (and a Scotsman!) and three years later was settled in the Cairngorms and about to take over a small,
run-down café above an outdoor shop in Aviemore. This was to become an Aviemore institution that won many awards and accolades over the 16 years.
Kj's first book, The Mountain Cafe Cookbook; A Kiwi in the Cairngorms brings together over 130 of Kj's favourite recipes.  The Cookbook sold out within a month of publication. The success of the book has taken Kj all over the country making public appearances and delivering motivational talks to members of the public and the tourist industry. A second
cookbook is in the pipeline. Sadly, due to the pandemic the café closed but Kirsten did not rest she opened a new business in Grantown on Spey which is now The Bothy Bakery. Kj's ethos has always been to deliver fresh, locally sourced, home cooked food with a kiwi twist. She is famed for her daily fresh bread and baking and has a loyal following.
Richard Jones (Farmer Jones) – MC

Richard has spent his entire lifetime in the Food and Drink Industry.
Firstly, taking over the family dairy farm in Cheshire and successfully building up a 200 cow unit supplying milk to some of the big name operators including Northern Foods (for M&S and others), and then moving to Scotland to develop an arable farm and small estate growing malting barley for Glenmorangie among others. 
Richard also developed a holiday business on this estate at Fearn, near Tain.  Following the sale of this enterprise, he then worked in journalism on local radio presenting a daily farming programme for Bauer Media (MFR & Radio Borders) as well as items for national news.
He also presented 60's and 70's music shows on MFR 2 in what he calls the fun part of his radio career!
5 years ago, Richard founded the Farmer Jones Academy together with ex-MFR Sales Executive and now Managing Director of what has become FJA ForYou – Sarah Mackenzie. Their aim is to promote the Food and Drink Industry as a career pathway for youngsters who are in their final years at school, or who may have left education with no positive destination. They currently work with a team of 15, have trained over 800 young people of all ages right across the Highlands and won the Social Enterprise of the Year award at the Highland Business Awards in 2019.
Richard is a keen gardener while also enjoying theatre and music as well as spending time modernising his home at Cawdor near Nairn where he moved a few years ago with his wife Susan.
Judging
The tables below demonstrate how our Judges will score entries in the traditional and speciality section.
You can find out more about the competition rules on our Competition > Rules page.
Speciality Porridge Section