Black Bean Porridge Patties with Black Bean Pico de Gallo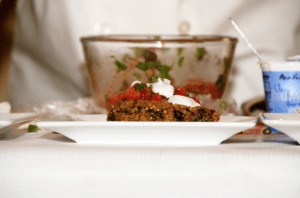 Recipe by Merry Graham, Winner of the North American 'qualifying' heats run by Oregon based Bob's Red Mill – 2011
Ingredients:
2/3 cup Bob's Red Mill Steel Cut Oats
1 2/3 cups water
1 tablespoon chopped garlic
3/4 teaspoon pink Himalayan salt
1 cup black beans, drained, divided
1 teaspoon cumin
1/8 teaspoon crushed red pepper
1/3 cup chopped cilantro for patty, 1/2 cup for pico, additional for garnish
3/4 teaspoon Bob's Red Mill Baking Powder
1/2 cup Bob's Red Mill Oat Flour, additional for forming patties
1/3 cup safflower oil
1 1/2 cups chopped fresh tomato (Roma or cherry tomatoes are nice)
2 green onions, chopped, additional for garnish
1/2 cup fresh sweet red pepper, red or green
1/2 cup picante salsa, medium or mild if preferred
4 tablespoons cup Greek yogurt
Instructions:
Soak oats in water for 3 hours. In a 4-quart or larger saucepan, bring softened oats, oat water, garlic, and salt to a boil. Cook on medium, covered, , 9-minutes, stir twice. Uncover, turn heat to high, add black beans, cumin, and red pepper, stir constantly and cook 4-minutes.
Pour hot porridge into a large bowl and stir in 1/3-cup cilantro. Add baking powder, stir for 15-seconds and then sprinkle in oat flour a little at a time stirring until mixture is well mixed and thick. Sprinkle a large sheet of wax paper with about 2-tablespoons oat flour. Form 4 patties by shaping with hands and sprinkling with oat flour.
In a large non-stick skillet, heat safflower oil on high. Fry patties on both sides 5 minutes, adjusting heat between high and medium-high, until patties are brown and crispy. Meanwhile, in a medium bowl toss together remaining 1/2-cup cilantro, tomatoes, green onions, sweet pepper, and picante salsa.
Place Black Bean Porridge Patties on a large serving patter or on individual salad plates. Top each patty with Pico de Gallo, and dollop with Greek yogurt. Sprinkle with cilantro and green onions. Serves 4 large patties.