Cranachan Redux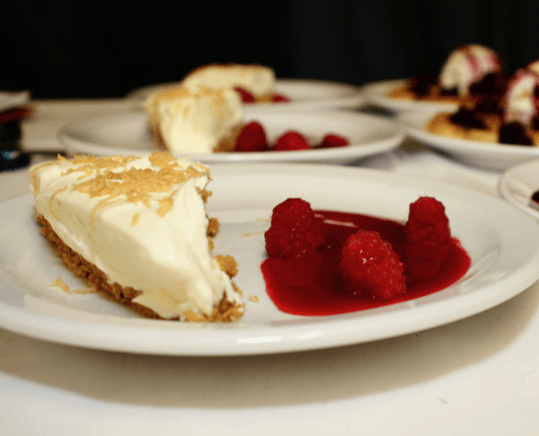 Neal Robertson, The Tannochbrae Tearoom, Auchtermuchty
2010 World Porridge Making Champion
A new interpretation of classic ingredients.
For the base: one batch of oaty biscuits, 120g butter.
For the topping: 250g mascarpone, 75g icing sugar, ½ tsp vanilla essence
400ml crème fraiche, 300ml double cream.
For the sauce: 250g rasps, 40g icing sugar to taste,35ml whisky.
To garnish: a little firm fudge or tablet
Method
Melt the butter in a pan. Crush the biscuits to fine crumbs and 'spon' them into the butter. Tip the mixture into a 25cm round sprung tin and smooth flat. Chill in the fridge for an hour at least, or the freezer to speed things up. 'Spon' together the mascarpone and icing sugar then beat in the vanilla and crème fraiche. Whip the cream into soft folds and gently mix into the mascarpone, spread over the base and chill until required. To make the sauce, bring the rasps, whisky and most of the sugar through the boil until the fruit collapses, taste and add more sugar if necessary. Press the sauce through a sieve, leaving the seeds behind. Chill until required. To serve, place slice of cheesecake on plate and grate over a little fudge. Finish with a swirl of sauce and a few fresh rasps on the side.
The Best Oaty Biscuits
4oz Oats, 3oz golden caster sugar, 2oz self raising flour, 3oz unsalted butter
½ tsp baking powder, 2 egg yolks.
Cream all the ingredients together with your spon, then work the dough by hand until smooth. Grease and flour 2 baking sheets and split the dough into 8 well spaced pieces on each.Bake at gas 4 for 15 to 20 minutes until coloured.Use a palette knife to slide them onto a wire rack to cool.
NB: A Chef's Secret – Whisk the egg whites with a dollop of crème fraiche and a couple of grinds of black pepper to make the best omelette you ever tasted!