Gooseberry Sundae
Lynn Benge, Carrbridge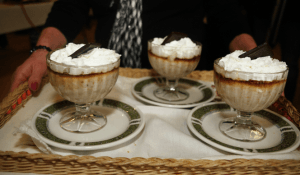 Serves 3 to 4 people
Ingredients:
¾ cup  of oatmeal
3 x ¾  cups of water
Knob butter (Portion)
¾ teaspoon salt
2 tablespoon cream
Fruit:
4 ozs gooseberries soaked in:
1 tablespoon Vanilla vodka + sweetener (leave overnight)
1 apple + sweetener, pealed and sliced in lemon juice (stops apple going brown)
Topping:
1 tablespoon Demerara Sugar for each dish
1 Squirt cream each dish
1 After eight each dish
Method:
Add oatmeal and water to pan, bring to boil,
Add butter and salt mix well.  Leave to stand
Add cream and mix well.
Add fruit and mix well
Place in bowls add Demerara sugar to top and caramelise under a grill or burner.
Leave to stand
Add squirt cream and after eight.
Enjoy.