Oatmeal Waffles with Fruity Date Porridge Ice-Cream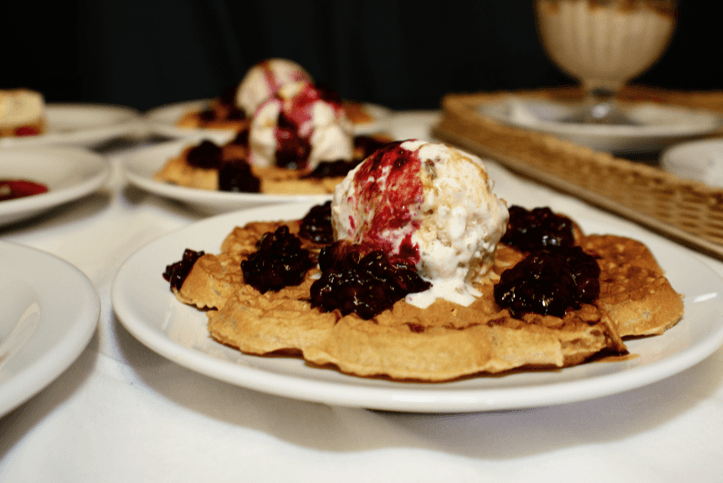 Holly Derry-Evans  from the London based cereal company, Rude Health

The waffles
1/4 cup medium ground oatmeal
3/4 cup fine ground oatmeal
1/2 cup plain flour, sieved
1/2 teaspoon ground cinnamon
1/2 teaspoon bicarbonate of soda
Pinch of salt
3 tablespoons melted butter
3 tablespoons unrefined caster sugar
1 cup milk
1 egg yolk
2 egg whites
1. Combine the dry ingredients (oatmeal, flour, cinnamon, bicarbonate of soda and salt)
2. In a jug, beat together the melted butter, sugar, milk and egg yolk
3. Whisk the egg whites until they form stiff peaks
4. Make a well in the centre of the dry ingredients and gradually fold in the milk mixture
5. Turn on the waffle iron and allow to heat up
6. With a large spoon, gently fold the oatmeal mixture into the egg whites
7. Pour this mixture into the waffle iron and cook for 2 minutes (or as your waffle iron maker recommends)
For the ice-cream:
75g Rude Health's Fruity Date porridge
260ml whole milk
284ml carton double cream
300ml whole milk
115g golden caster sugar
3 large free-range egg yolks
For the porridge
1. Mix the porridge with the milk and allow it to infuse for 2-3 hours in the fridge.
2. To cook the porridge, put in a saucepan and bring to the boil. Then simmer gently for 3 minutes, stirring occasionally.
For the ice cream
1. Pour the cream and milk into a heavy-based pan, then tip in half the sugar.
2. Heat the cream and milk over a low heat, stirring occasionally, until it almost boils then take it off the heat (if you have a thermometer heat to 85 C).
3. Put the egg yolks into a bowl with the rest of the sugar and beat with an electric beater for about 2 minutes until the mixture has thickened, is paler in colour and falls in thick ribbons when you lift the beaters.  Scoop out about 125ml/4fl oz of the cream mixture and beat into the egg yolks to slacken them. Reheat the cream until it just comes to the boil, take off the heat and stir in the egg yolk mixture.
4. Return the pan to a low heat and cook, stirring all the time, for 8-10 minutes, until the base mix is thick enough to coat the back of a wooden spoon (80 C). Be careful that it doesn't burn as it will curdle.
5. Pour the mix into a heatproof bowl, then sit it in a bigger bowl one third full of iced water to cool. Stir occasionally to stop a skin forming. Put the bowl of  mix in the fridge overnight, so it gets really cold.
6. Take the mix out of the fridge, add the cooked porridge  and blend until well mixed.
Get the ice cream machine running and slowly pour in the cold base mix. Leave it to churn for 10-30 minutes (depending on your machine). When it stops, it will be perfect eating temperature (as it isn't too cold to freeze all of your taste buds!) but will be too soft to scoop and serve, so spoon into a plastic container, cover with cling film, then a lid, and freeze for a minimum of 3 hours. (It will keep in the freezer for 3 months but don't take it out, then refreeze.) Remove from the freezer 15 minutes before serving.  Ice-Cream recipe thanks to Beckleberry's.