Winter Spiced Porridge with Blueberry Compote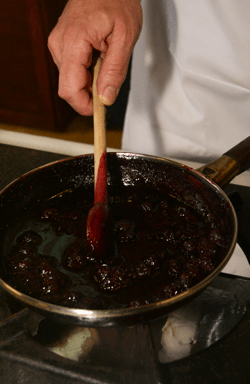 Neal Robertson's recipe that won him the 2011 Speciality Award!
Serves 2
For the compote
100g blueberries
40g golden caster sugar
For the porridge
80g medium oatmeal
300ml water
300ml single cream
a pinch of salt
1tsp cinnamon
1/2tsp nutmeg
2 dessert spoon heather honey
To make the compote: bring the berries and sugar to the boil until the berries burst and the sugar dissolves. Add more sugar to taste.
To make the porridge: toast the spices in the oven for 5 minutes to take away the rawness and set aside. Boil the oatmeal and water until the water is absorbed, then add all the other ingredients and cook until thickened.
Check seasoning and serve topped with the warmed compote.