Clootie Porridge Dumpling with Custard
by Patrick Potter of Real Foods USA © 2010
Watch footage taken by Real Foods at the 2010 Competition
Ingredients: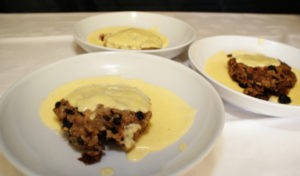 1 Cups Organic Oat Flour plus ¼ Cup for sprinkling
1 Cup Thorough Cooked Porridge (Organic Gluten-Free Pinhead Oats)
½ Teaspoon Metallic Free Baking Soda (bicarbonate soda)
½ Teaspoon Ground mixed spices (Nutmeg, Mace and Clove)
½ Teaspoon ground Cinnamon
½ Teaspoon ground Ginger
¼ teaspoon freshly ground Himalayan Salt
¼ Cup Organic Vegan Sugar (or Caster Sugar)
2 oz Shredded Vegetable Suet
2 oz Wild Organic Blueberries
1 oz Organic Black Zante Currants
1 oz chopped Organic Medjool Dates
1 oz Orange coarsely zested
½ organic apple, coarsely grated
1 Teaspoon Treacle
1 Beaten Organic Egg
½ cup of organic Buttermilk
Method:
Sift the oat flour, soda, spices, and salt into a bowl and stir in the porridge, sugar, suet, dried fruits, and grated apple or carrot. Mix black treacle with egg and enough of the buttermilk to give a soft mixture with a cake like dropping consistency when mixed into the dry ingredients.
Dip a large piece of muslin, like an old pillowcase, a cheese cloth into boiling water, remove it and squeeze out excess water. Lay it out on a surface and, in the center, sprinkle the extra flour and sugar in a 30 cm (12 in) circle. Spoon the dumpling mixture on top, carefully gather up the corners of the cloth to shape the dumpling mix into a sphere and tie securely with string leave a little room for the dumpling to expand.
Boiling Method:
Rest a heatproof plate in the base of a large pan, on a trivet so that it is not in direct contact with the heat and place the Clootie Dumpling on the plate, knotted side up. Pour in enough water almost to cover the pudding, cover with a tight fitting lid and simmer gently for 3 ¾ – 4 hrs. Take a peek every now and then to check the water level and top it up if necessary.
Steaming Method:
Using a Chinese Dim-Dum Bamboo Steamer, place the Clootie Dumpling in and cover, steam over boiling water for approximately 35 min till fully expanded. Then remove from steamer, cut away the Clootie and continue below.
Preheat the oven to 180 degrees C/ 350 degrees F/Gas 4. Lift the pudding out of the pan and dip it briefly in a bowl of cold water – this will ensure that the outside of the pudding doesn't stick; unwrap the pudding and transfer it to an ovenproof serving plate. Slide it into the oven and leave for 15 mins, until the outside of the pudding has dried off and is dark and glossy. Allow to cool for a few minutes or allow to cool and store in an airtight container for up to seven days. The best way of reheating I've found is in a microwave, or alternatively in a low-to-medium oven covered in buttered foil.
Serve in chunky wedges, with scoops of custard* and perhaps a small glass of fine Scottish whisky.
For home-made custard:
½ pt (275ml) cream
3 egg yolks
1 level Table Spoon Organic Vegan Sugar (Caster Sugar)
1 level tea sp. Cornstarch
1 whole vanilla bean powder (or essence/extract can be used)
First heat the cream in a small saucepan up to the boil. In a bowl mix egg yolks, cornstarch, sugar and vanilla together. Then pour the hot cream in – stirring all the time – and return the mixture to the saucepan. Heat very gently, still stirring until the sauce has thickened, which will only take a minute or two.
If your custard begins to break or separate you can fix it : Take the saucepan off the heat, don't just turn the heat off. Take ½ egg yolk, cornstarch and tsp of cream creating a batter then slowly wisk into the broken custard it will fix its self. Remember never over beat custard.